From negative ROI to 500$ in 3 weeks | Push Traffic in Dating
With my increasing interest in online dating, I discovered a lucrative niche for promoting various dating offers as an affiliate. Initially, I had a negative ROI, but I turned it into a positive one by changing my tactics and implementing push traffic. So, today I want to share my experience of making a profit using the C3PA Network and MonRays tool for advertising.
Basic data:
Network: C3PA
Traffic source: ExoClick
Tool: MonRays
Format: push notifications
Vertical: dating
Bay period: 01.01.2023 - 02.28.2023
GEO: USA
Spent: January — 6269.9; February — 6119
Earned: January — 5639.7; February — 6625.9
Profit: January — -630.3; February — 506.8
ROI: January — -11.18%; February — 7.65%
As society continues to move towards digitalization, it's no surprise that the popularity of online dating has grown exponentially in recent years. As someone who has always been curious about the world of online dating, I decided to explore it further and found a lucrative opportunity for promoting various dating offers as an affiliate.
At first, I was skeptical about whether I could make a profit by promoting dating offers as an affiliate, but I was determined to give it a try. That's when I stumbled upon the C3PA Network, a performance-based affiliate network that offers a variety of dating offers. I also liked that they have a referral program — you bring a friend and get 2% of his revenue.
To promote these offers effectively, I also used MonRays, a powerful tool for advertising. With MonRays, I was able to create eye-catching ads and target the right audience, which helped me to maximize my ROI.
Choosing a network and traffic source

I used to work mainly with networks in vertical gambling, but in this case, I decided to try dating, as it is cheaper and more convertible. During my research, I evaluated multiple advertising networks and tools to determine which would provide the most value for my dating offers. I looked at their track record, performance metrics, and the kind of offers they were promoting to see if they aligned with my goals.
After assessing all these factors, I found that the C3PA Network and MonRays tool were the most suitable for my requirements. Furthermore, my friends had previously worked with the C3PA Network and MonRays tool and had achieved great results.
Selection of offers, conditions, and GEO

To start my campaign, I had to select the right offers. So, after analyzing the market, I chose to promote offers from Mirelia and C3PA that were relevant and recommended to me by friends and my personal manager. In the beginning, I was testing:
8677 Qkkie CPL US [SOI] Only For 20565
8118 Orgassme CPL US, UK, CA, AU, NZ [SOI]
9603 Spdate US UK CA AU CPL [SOI]
These offers have easy registration and fresh funnels, as well as good conversion rates (as it turned out later, on push ads, it's the best).
Of the sources, I tested the two best: Mirelia DSP and ExoClick. It worked best with Mirelia for several reasons:
- The manager suggested how to do a split test with them and how to scale the campaign
- The price for click and redemption volume was suitable for the start
- And they give you a bonus — $50 after the first top-up of $300
I also decided to use the advertising tool MonRays. The setup is as simple as possible, and the instructions are very easy to follow:
additional monetization
increase in profit for each purchased click
Creatives for the bay
Conveniently, the network gives you working creatives straight away, which speeds up the start. All you had to do was match the pre-lending to your offer. I researched the ad's spy services, and what other people are using, and chose the most appropriate ones.
Here are a few examples of my pre-lendings:
Setting up advertising campaigns in January

Funnel:
Clicking on the banner - Pre-landing - Offer
After the first week of work, I realized that something was going wrong, almost every day I was losing money. The first thing I decided to do was to stop the offer with the lowest conversion rate and replace it with another one:
8520 Inslutty CPL US, UK, CA, AU, NZ [SOI]
I had a chat with the manager, but he told me that all of the offers I was advised were doing well at other arbitrators.
During the whole of February, I was testing different links, but it did not work so well (good, I have patience :)). Finally, I was advised by my manager MonRays to try the push traffic source, and since January I have been testing it.
Setting up advertising campaigns in February

Funnel:
Clicking on the banner - Pre-landing - Offer
- Subscribe to the push - Receiving a push - Offer
At the beginning of February, I was learning how to set up push traffic, select creatives, and prepare texts. On 8 February, I launched the campaign. As you can see from the statistics, from 9 February I finally started to get into the black, and the ROI began to grow rapidly. I also increased my spending little by little, as I saw the results.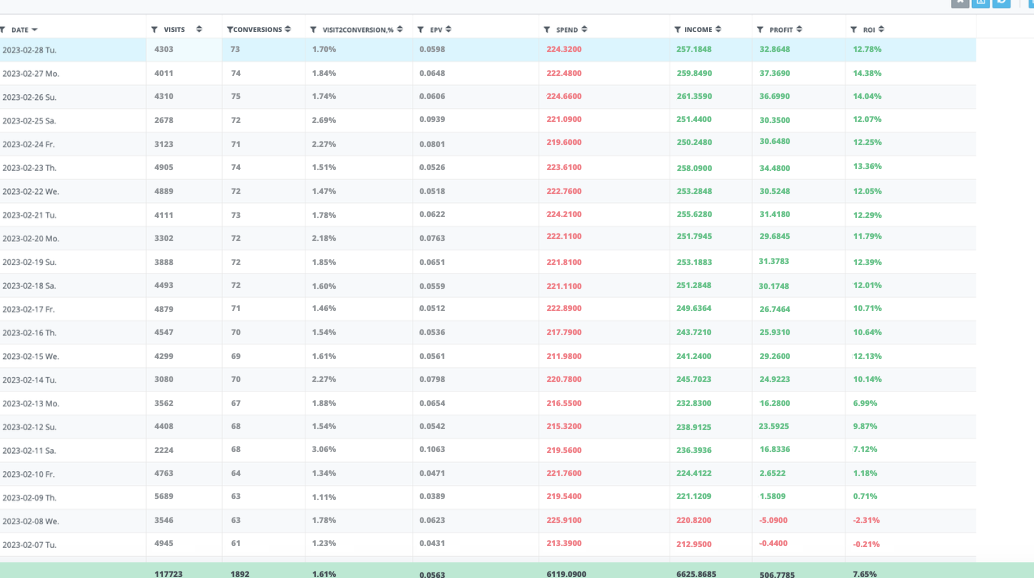 Monetization helped me achieve results and increase ROI using push traffic. Now, the user gets into two funnels: clicking on the banner ad he goes to the offer, as well as subscribing to the newsletter push. After that, he gets a push, and after he clicks on it, the user goes to yet another one of my offers. Does it sound great? With the help of this link, my income began to grow and I was not in deficit anymore.
Below I have given an example of creatives and texts that I used:
I ran this funnel through the MonRays service. It's easy to set up, but if anything is not clear, their manager is always ready to help. Also, for now, they have unlimited functionality, so I advise everyone to use the moment and register.
Conclusions and results

By changing my tactics and implementing push traffic, I was able to turn my negative ROI into a positive one. In January, I spent $6269.9 but earned only $5639.7, resulting in a loss of $630.3 and an ROI of -11.18%. However, in February, I spent $6119 and earned $6625.9, resulting in a profit of $506.8 and an ROI of 7.65%. My decision to switch to push traffic paid off, and I made a profit in the dating niche.
My personal decisions:
- Never give up! If you see that some funnel is not working, try different solutions. At one point you will succeed.
- Testing. Even if you've never worked with something, try and test, otherwise, you'll never know what works and what doesn't.
- Communication with the manager. A manager will always be able to tell you what converts and what doesn't, which offers to choose, and under which source.
- Don't devalue push traffic. Push traffic converts very well with the right and diligent approach.